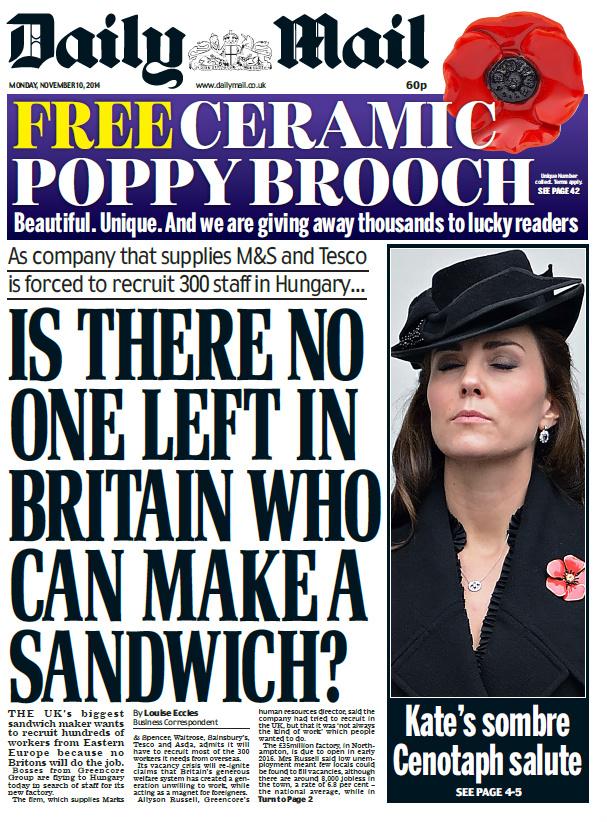 This Daily Mail's front page caused a bit of a stir today with its implcation that Brits lack the skills or attitude to make sandwiches! The story is that an Irish firm who make a large proportion of pre-packed sandwiches sold in the UK have struggled to hire British workers and have instead looked to Hungary for staff . The Daily Mail decided to spin this as a 'lazy Brits' story, that people don't want to work any more as they can live off benefits. The rather ridiculous headline was quite well lampooned by Twitter users and some of the best responses were collated in this article.
The real story here of course is not one about lazy Brits but rather shitty employer struggles to fill shitty jobs. This article gives some more background on the employer in question. If this firm was not able to import workers from Hungary, it would be forced to either improve the pay and conditions it offered, or go out of business (or ring up Iain Duncan Smith and ask for some 'work experience' victims). Because we have free movement though, and many of the countries in the EU are much poorer than the UK, firms like this are able to keep wages low and working conditions poor and still find people willing to take the jobs. The government could legislate to increase the minimum wage, forcing companies like this to pay more, but that would only make those jobs more attractive to EU workers, meaning many Brits will still lose out.
As much as we have seen studies recently showing a positive impact to free movement, the problem is, the benefits are not being felt by those at the bottom.